THE BEST CHOICE
Quitting cigarettes and nicotine altogether is the best choice any smoker can make.
ACCESS AND INFORMATION
Adult smokers who don't quit altogether deserve access to and information about smoke-free alternatives to continued smoking.
RIGHT REGULATION
While science and technology have enabled the development of smoke-free alternatives, regulation can restrict or prevent smokers from getting access to or information about them.
UNSMOKE YOUR LIFE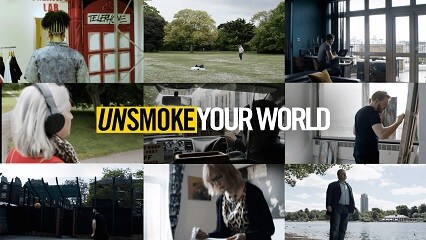 The best choice any smoker can make is to quit cigarettes and nicotine altogether.

But what about those who don't?
Growing numbers of scientists, public health experts and governments acknowledge the role smoke-free alternatives, such as e-cigarettes, heated tobacco and snus, can play in addressing the global public health issue of smoking.
Regulations play a role in providing the men and women who would otherwise continue to smoke access to better alternatives, and all the resources they need to make an informed decision.
It's time for friends, family and colleagues to come together. To inspire each other. To help each other.
Watch the film and keep scrolling to find out how you can play your part in Unsmoking our World.
BURNING IS THE MAIN PROBLEM
More than 6000 chemicals have been identified in cigarette smoke, about 100 of which have been classified by public health authorities as harmful or potentially harmful. It is combustion that causes the production of high numbers and levels of harmful chemicals detected in cigarette smoke.
UNSMOKE YOUR LIFE
The best choice is to quit tobacco and nicotine altogether. Those who don't, deserve access to and information about smoke-free products.
CALL FOR CHANGE
Did you know that according to our 2019 White Paper, 95% of smokers have heard of smoke-free alternatives, but only 55% say they have all the information they need?
Be inspired
The world is Unsmoking. See how people are succeeding.
Testimonial

SVETLANA
QUIT ALTOGETHER

Testimonial

HUMAM
CHANGED
TO VAPING

Testimonial

ELENA
ENCOURAGED
HER FRIEND
TO CHANGE

Testimonial

MARIUS
CHANGED
TO HEATED
TOBACCO

Testimonial

ERNESTO
QUIT

ALTOGETHER