MD AND EMPLOYEES TAKE TO THE STREETS TO HELP SMOKERS RID THEMSELVES OF CIGARETTES.
The idea of a company known for producing cigarettes telling smokers to stop smoking cigarettes might cause people to do a double-take. But that is exactly what Philip Morris International (PMI) is doing through its Unsmoke campaign.
The campaign successfully launched in Canada in May, with Peter Luongo, Managing Director of Rothmans, Benson & Hedges Inc. (RBH), declaring that this was another stride towards a future where cigarette sales would stop completely. "RBH is committed to a smoke-free future and wants to eliminate cigarettes by 2035. For change like this to happen, we need governments, consumers and society all to play a role," Luongo said. "We can launch Unsmoke – but we can't unsmoke Canada alone."
The campaign's website, Unsmoke Canada, was set up to help raise awareness about smoke-free alternatives, as well as the activities the company is undertaking to spread the word. One such activity took place in the week leading up to World No Tobacco Day. PMI employees took to the streets of downtown Toronto to take part in a street-clean, clearing up cigarette butts. Around 60 employees, wearing "Unsmoke" t-shirts, swept up streets around Yonge-Dundas Square, and spoke to passers-by about the purpose of Unsmoke and how the movement can help keep the streets of Canada permanently clear of cigarettes.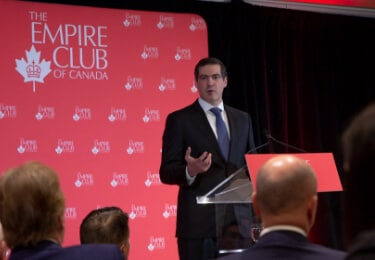 "We are looking to keep our streets clean, with more litter bins and special receptacles for cigarette butts for as long as there are still cigarettes in Canada," said Luongo. And as the Unsmoke movement grows, and more adult smokers either quit cigarettes completely, or move to a better alternative, that end won't be too far away. "There is a lot of confusion today," Luongo added, "with the restrictions on heated-tobacco products, which are virtually identical to those for cigarettes. And that's wrong, because of all the scientific evidence that shows that they are a better choice for adult smokers than continuing to smoke."
"We need you, the public. We need you to believe that Canada should take a pragmatic approach, to make better choices more available to current adult smokers."