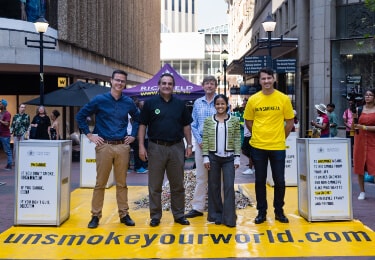 80kg of cigarette butts were collected from the streets and cigarette butt bins, and displayed.
Managing Director of Philip Morris South Africa, Marcelo Nico, believes a smoke-free South Africa is possible. He and his team are committed to achieving this for the sake of 10 million South African adult smokers, their friends and families.
"Through the power of conversation, partnership and accurate information about better alternatives, we can reduce smoking rates more rapidly," said Nico.
Cape Town is among the world's top tourist destinations and home of the famous Table Mountain. Keeping the city in shape is a key priority for the local municipality and the Central City Improvement District (CCID). The team partnered up with these organizations for a cleanup to raise awareness about Unsmoking and reducing cigarette butt litter.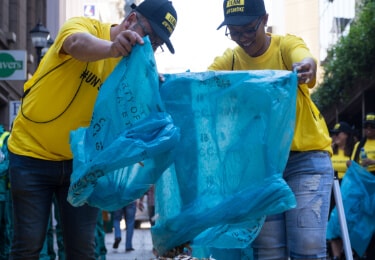 40 employees, joined by municipal and CCID staff, took to the streets to pick up discarded cigarette butts. Passers-by stopped to observe the massive pile of cigarette butts, and to learn more about how to Unsmoke Cape Town.
CCID CEO Tasso Evangelinos praised the Unsmoke initiative, saying he was very excited that the company was joining the fight to keep Cape Town and the central city clean. Alderman Xanthea Limberg, Mayoral Committee Member for Water and Waste, said that the city was happy to support this initiative, together with the CCID, and encourage others to take similar action.
The Cape Town launch and cleanup is the first step in growing the Unsmoke movement in South Africa with a clear call to action: if you don't smoke, don't start; if you smoke, quit; if you don't quit, change.