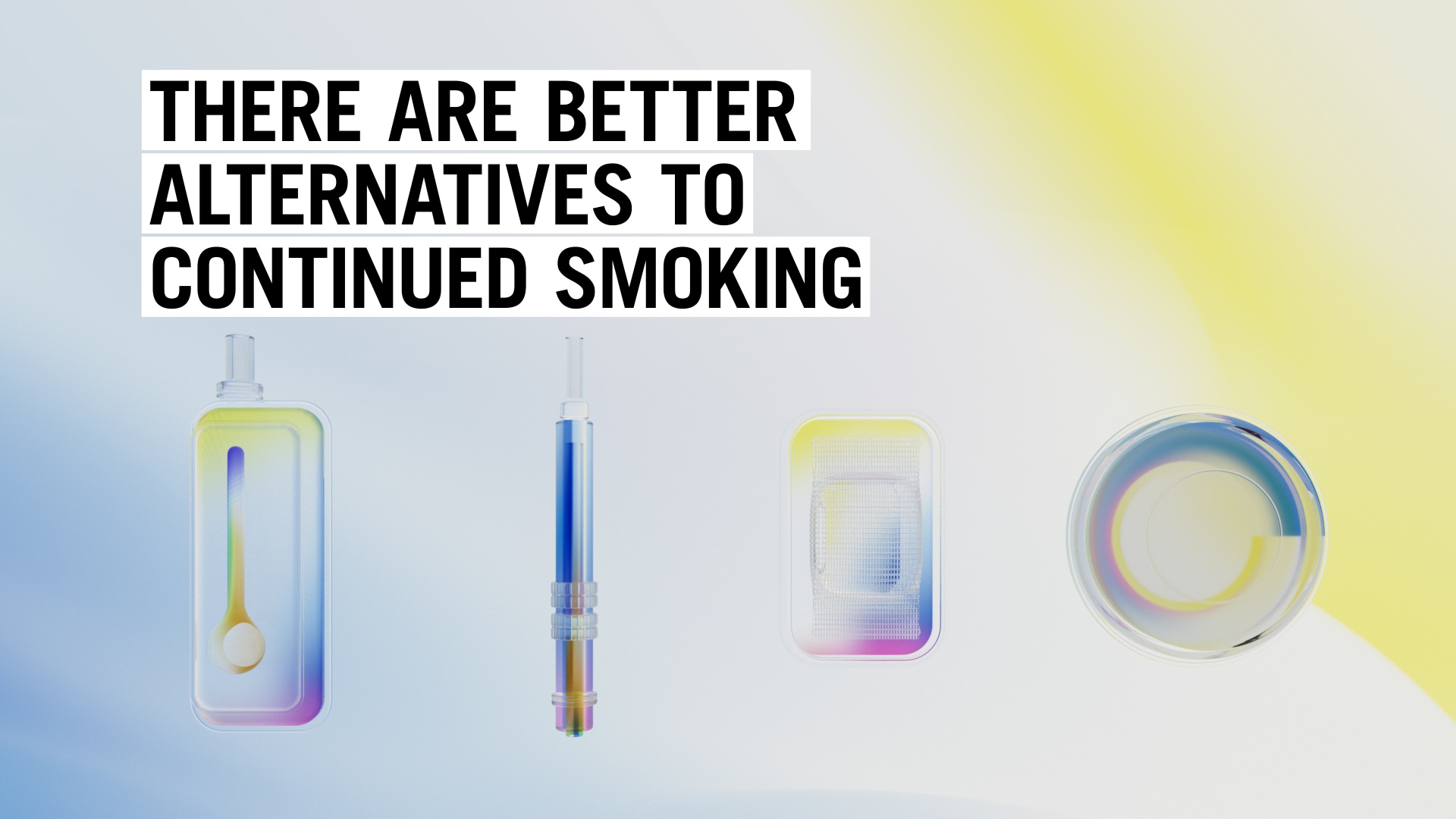 WHAT'S WRONG WITH BURNING?
A burning cigarette releases over 6,000 chemicals, many are harmful. It's the high levels of these harmful chemicals present in cigarette smoke that are the primary cause of smoking-related diseases.

When you remove burning, it's possible to significantly reduce exposure to these harmful chemicals. Alternatives to continued smoking that don't burn exist—such as e-cigarettes, heated tobacco products and oral smokeless products.​ These alternatives are not risk-free and provide nicotine, which is addictive.​
Tobacco is a plant which contains high levels of nicotine. Nicotine is addictive and not risk-free.
The burning of the tobacco produces a complex mixture we call smoke. 
Smoke contains high levels of harmful and potentially harmful chemicals associated with smoking-related diseases.
Nicotine is a naturally occurring substance found in some plants, most notably in tobacco. It is one of the reasons why people smoke, alongside factors like taste and ritual.

There are often misconceptions about the role of nicotine in causing harm.

Although nicotine is addictive and comes with its own health risks, a number of public health authorities have noted that nicotine is not a carcinogen and is not the primary cause of smoking-related diseases.
WHAT ARE SMOKE-FREE ALTERNATIVES?
It is the harmful chemicals in the smoke of a burning cigarette that are the primary cause of smoking-related diseases. 

Cigarettes burn tobacco but smoke-free alternatives—such as heated tobacco products, e-cigarettes and oral smokeless products—don't. That's why they generally contain significantly lower levels of harmful chemicals compared with cigarette smoke. Of course, this needs to be substantiated on a product-by-product basis.
Smoke-free products are not risk-free and contain nicotine, which is addictive. The best choice any smoker can make is to quit tobacco and nicotine altogether.
E-CIGARETTES

E-cigarettes are smoke-free products that heat an e-liquid to produce a vapor.
What are e-cigarettes?

E-cigarettes produce an aerosol by heating a liquid that contains flavorings and usually nicotine. Some resemble cigarettes, some resemble pens; while "vape mods" are bigger devices that can be modified, e.g. by adding a larger liquid chamber. Like other smoke-free products, e-cigarettes are not risk-free and contain nicotine, which is addictive.

How do they work?

Broadly speaking, they include a rechargeable battery and an element that heats the e-liquid to produce the vapor that's inhaled. The vast majority of liquids—and their vapors—contain nicotine.
HEATED TOBACCO

Heated tobacco products are smoke-free products based on the concept of heating tobacco to temperatures well below those reached by a burning cigarette. 

What is heated tobacco?

Heated tobacco products generate a nicotine-containing aerosol by heating tobacco to temperatures sufficient to release nicotine and flavors from the tobacco, but low enough to prevent the tobacco from burning. Like other smoke-free products, heated tobacco products are not risk-free and contain nicotine, which is addictive.

How does it work?

To produce the nicotine-containing vapor, tobacco (in a stick or capsule) is heated using battery-powered heating systems or by way of a carbon tip.
ORAL SMOKELESS PRODUCTS
Oral smokeless products refers to tobacco (known as snus) and tobacco-free nicotine-containing smoke-free products designed for oral use.
 
WHAT ARE ORAL SMOKELESS PRODUCTS?

Snus consists of ground tobacco mixed with water, salt and flavoring agents. It can be loose or in small portion pouches. Its use does not involve burning or inhalation of an aerosol. Tobacco-free nicotine-containing pouches do not contain tobacco. Like other smoke-free products, modern oral products are not risk-free and contain nicotine, which is addictive.

HOW DO THEY WORK?

It's generally placed between the upper lip and gum where it gradually releases nicotine.
SMOKE-FREE PRODUCTS HAVE A ROLE TO PLAY IN ENDING SMOKING FOR GOOD
From electric cars and energy saving lightbulbs to smoke-free products, all are meant to provide a better option to consumers than continuing their original unaltered behaviour.
 
Providing a better choice to smokers who would otherwise continue smoking has potential to help bring us to a future without smoke faster.